In September 2017, Tencent Pictures launched "China Temperature" ("中国温度")Poverty Alleviation Programme. We have totally received nearly 3500 contributions from more than 300 authors on Tencent Content Opening Platform. In only half a year, the total exposure of the article on Tencent Media Platform has approached 1.8 billion and the total reading volume has amounted to 130 million.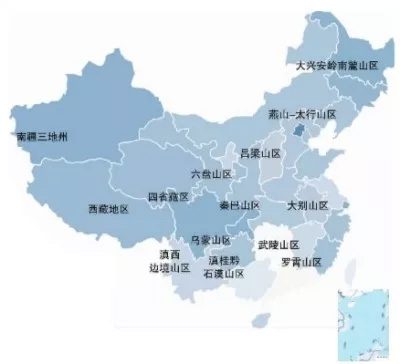 (A sketch of fourteen centralized contiguous destitute areas in China)
In addition, through the Column "One Day China" ("中国人的一天") and the official account of "China Temperature", we invited professional photographers to reach eight key poverty-stricken areas such as Qinba Mountain Area, Liupan Mountain Area, Wuling Mountain Area, Wumeng Mountain Area, southern foot of Daxing'an Mountain Area, Luoxiao Mountain Area, Rocky Desertification Area in Yunnan, Guangxi and Guizhou and the Yanshan-Taihang Mountains Area. They used lens to show new changes in rural areas, which attracted considerable attention.
Besides, among the 21 edited graphic stories, 5 issues including "Return Visit for Cliff Village", "Great Changes of Beggars Village", "Yellow River Beach Residents Living in Villas" and "Shui Nationality's Female Embroiders a Road to Wealth" were published on Tencent News Wechat platform. The total exposure of the series reached more than 3 billion, and the pageviews was more than 200 million. (Wechat platform can reach hundreds of millions of users.)
Since September 2017, Tencent Pictures has selected the Semi-annual "China Temperature" Poverty Alleviation List, picking 10 best works from thousands of manuscripts and awarding each selected photographer 1000 yuan.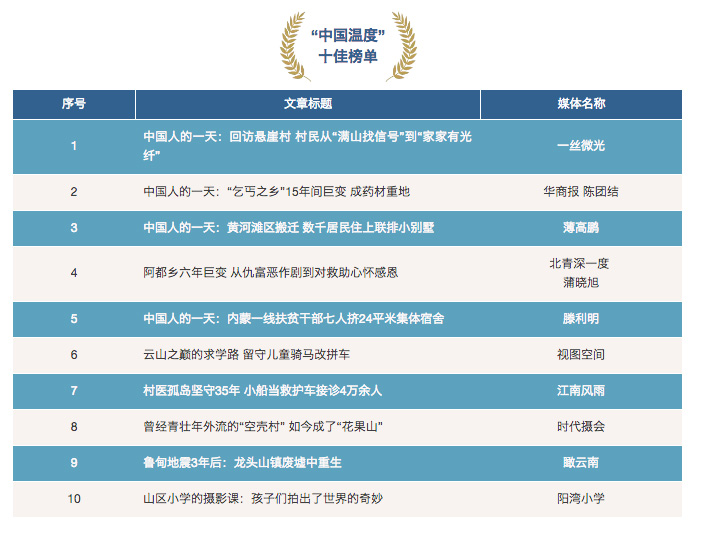 Return Visit for Cliff Village: Villagers' situation changed from "looking for signals all over the mountain" to "Optical fibers are available in every family "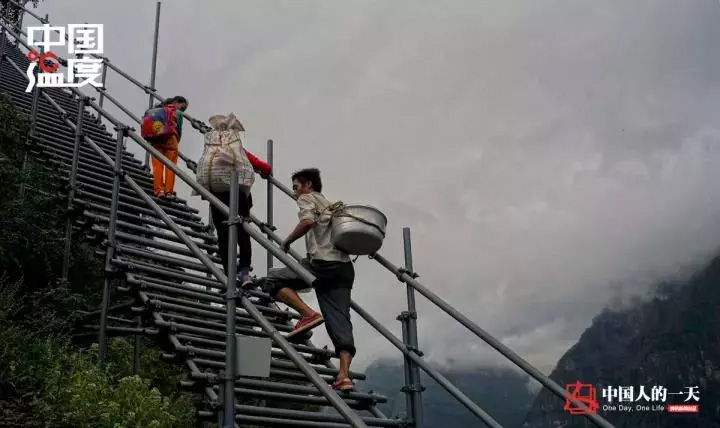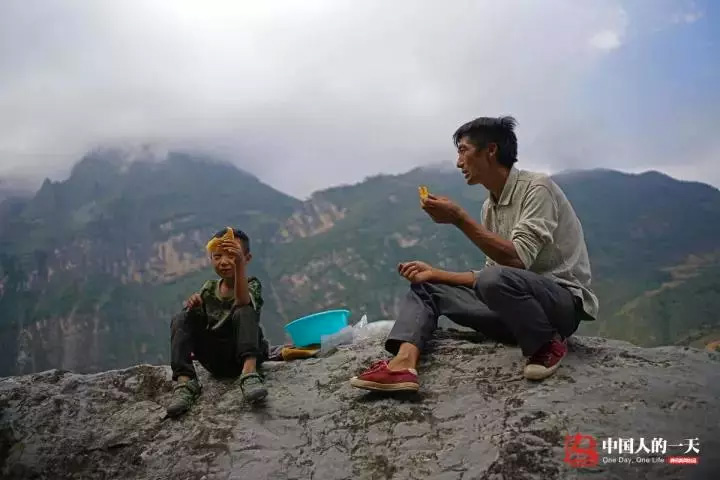 In 2016, the column "One Day China" united with the Beijing News launched the story of children climbing rattan ladders to go to school in Cliff Village of Daliang Mountain in Sichuan on the Internet, which gained national attention. "One Day China ", together with Jie Chen, chief journalist of the Beijing News, has visited the cliff village eight times to witness the changes that have taken place here: within half a year, the rattan ladder of the cliff village has changed into a steel ladder; and within one year, roads are built and the village is connected to the Internet.
Great Changes of Beggars Village in 15 Years: It becomes an important land for medicinal materials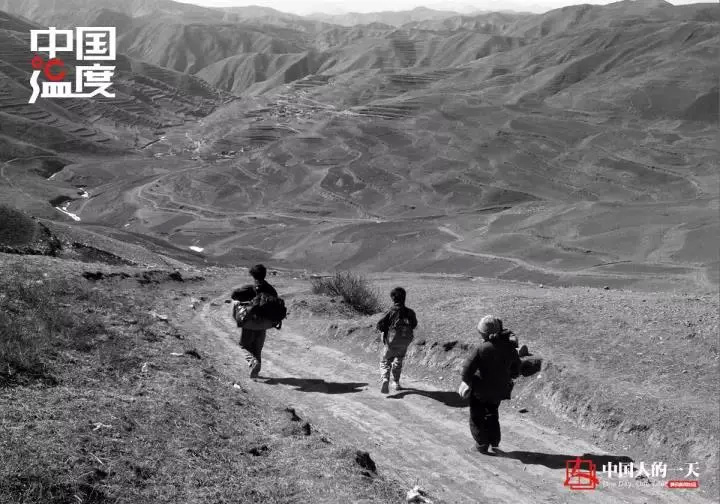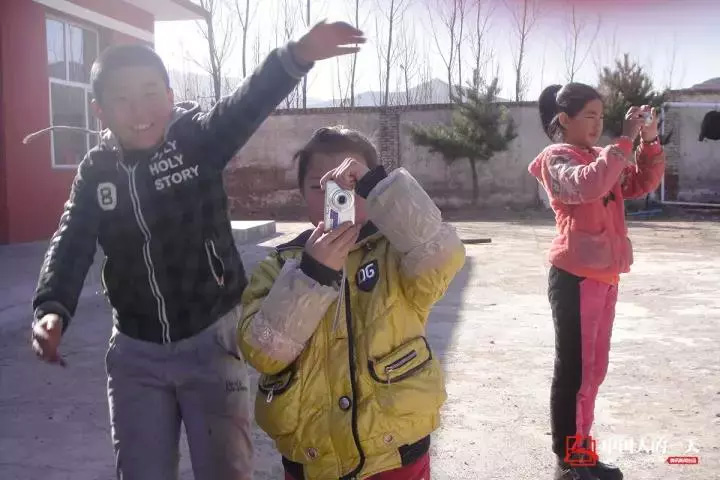 Since 2003, Chen Tuanjie, a senior photographer of the Chinese Business Daily, began to track and shoot the "Beggars Village" – Hulong Village, Zhongzhai Town, Min County, Gansu Province. For more than 10 years, these former "beggars" villagers have changed themselves by planting medicinal materials. The photos and the story were selected by Tencent News Wechat platform and gained more than 3 million views.
Photography Course in Mountain Area Primary School: Children photographed the wonders of the world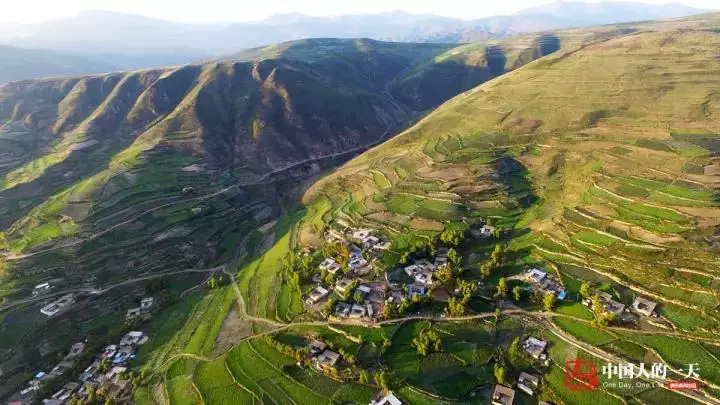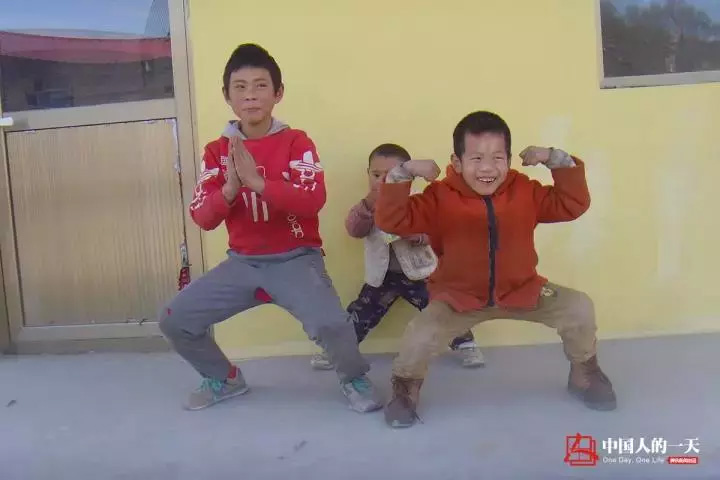 Besides collecting stories online, Tencent Pictures launched the "Little Photographers in Poor Villages" project in October 2017, which developed the left-behind children reported in the stories into photographers. The targets of the report became the reporters so that they could observe and record the changes in the countryside with their own eyes and told the "China temperature" they experienced by themselves.